After running as a candidate for another election, then requesting a license in April, mayor Luis Alberto Villarreal returned to close out his term as mayor. He also delivered his third report on the state of the city and public administration. Prior to his report and the conclusion of the administration, we had a conversation with him. He told us then not only about his great works, for which he claims "San Miguel is better, much better," but also about his plans after he leaves the municipal government on October ninth. 
Jesús Aguado: Why come back to finish the administration?
Luis Alberto Villarreal: Not only have I come back, I have come to stay in San Miguel. I am from a family of 13 generations. I have dedicated my life to build a better municipality. And I have had the greatest honor a citizen can have: to coordinate the wishes and dreams of his fellow citizens. One must return to face and say thank you because San Miguel is much better with teamwork.
JA: What is there to do after your administration?
LAV: Keep working for San Miguel.
JA: Will you stay in the city, in the country?
LAV: With pleasure. I have things that are part of my life, not everything is politics. There are balances. I dedicate myself to the office here and in Mexico City, bullfighting, and business. Now I have the expectation of writing. I hope books come. I will try.
JA: Are you going to work for the state?
LAV: I am focused on closing the administration.
JA: Will you team up with future administrations?
LAV: I've never liked to get in the way. I like to build and it shows in the works, infrastructures, and social programs.
JA: With all your experience in the executive and legislative branches, do you have any recommendations for the administration that is about to initiate its term?
LAV: The recommendation is for everyone and it is putting our greatest impetus, effort, vision, and heart to things. It is built with love and with heart. Today we can see works and actions that were not built based on hatred or resentment, but were done as a team and with love. And I thank the people of San Miguel for that, from the bottom of my heart. Public works were done like never before, jobs and investments were created, and we went through times as complex as many years ago, like nothing that happened in history. We had the pandemic, federal budget cuts, and yet San Miguel is on its feet. I'm not the only one saying it, a lot of people say it because they see it on the streets.
JA: Regarding the works, Mr. Mayor, the underpass was highly criticized, but it is working.
LAV: Let me correct you, it was highly envied. People are envious, because they did not think of it, nor did they do it in their time, so they are going to criticize it. It was said that it was going to flood, that it would be a mistake. But it is a work that was done with vision and with heart. By the way, I don't know what happened to the planes, but how it has rained. And it wasn't flooded. Other infrastructures yes, but the underpass did not because it was done with complete professionalism. It is work that San Miguel needed not only for mobility, but also for its urban image. It is such works that are carried out in first-world cities. That is why San Miguel is considered one of the best cities to live in. There are works in all the communities, in all the neighborhoods. Roads, paths, squares, churches, fields, public spaces, and main avenues, we made them because people's money was invested in people and today it shows.
JA: What will happen to the Cieneguita bridge, currently in progress?
LAV: The rains have complicated our timing, but in the coming weeks we will be using it. It was a campaign promise. It was a work that the people of the communities asked for. We committed ourselves and we are fulfilling it.
JA: Prior to his return, Security Secretary Rolando Eugenio Hidalgo Eddi resigned, and the next day events were recorded in the San Rafael neighborhood. Even so, do you still contend that San Miguel is better?
LAV: Yes, we have reduced crime rates here in all areas, in a country that is on fire, engulfed by fire, in its most violent year in history. We will leave a true Office of Public Security; a municipality with the most surveillance video cameras in the country. Pink police that was the first in the state, a Victim Attention Center, a Tactical Group, local police with equipment, police with all their control and confidence tests; with facilities worthy of a big city such as San Miguel, C4, and Stand de Tiro.
JA: What was missing in the area of security?
LAV: The civic court was absent. But we have police who do investigative work, an intelligence group. We have done the homework and have managed to contain the problems that exist around the municipality. It is not possible for anyone to think that we live on an island. We live in a country with a lot of violence, with a federal strategy that is failing. It is not to politicize, but it hurts and hurts because we deserve to live in a country of order and peace. I understand citizens who have a perception of security, I understand that the statistics give the same. Because when something like San Rafael happens, we get alarmed and feel insecure. The truth is that in San Miguel people live in peace, and that is why there is investment, opportunities, development, and economic growth. We are a dynamic municipality. Thanks to the Sanmiguelenses, and the committees of good and order.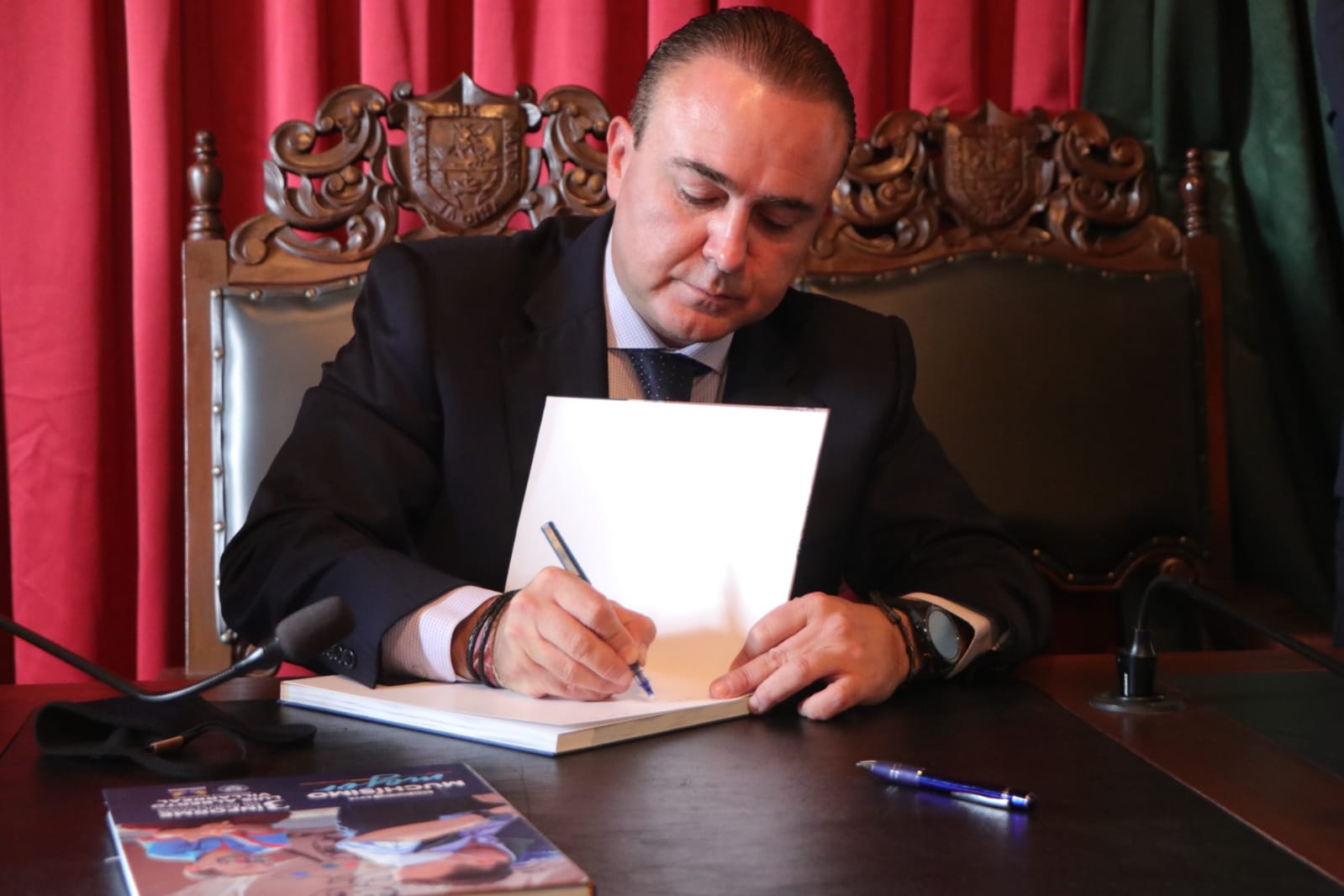 JA: What will happen to the Independecia Aquifer? 
LAV: This is the most important work. It will guarantee quantity and quality of drinking water for the next 30 years; thinking about the growth of San Miguel. That is why we made the infrastructures. Anyone who thinks that we can live with the Chorro from when it was discovered there in the park, has not realized that infrastructure must be built to have water. I maintain that, if the federal government does not give us water from the dam, in all areas where the aquifers fill, we can make the wells with infrastructure to provide water to the upper part of San Miguel. It's growth that generates jobs through an aquifer. We will deliver it, it generated envy, but the works remain.
JA: What percentage of progress would it be?
LAV: We will leave it concluded. Seven wells, the network, the pumping tanks. The citizens must know this. We must get rid of the lies, and of things that were said. Here we come to speak to the citizens, directly with our heads held high, about works that are seen and felt.
JA: What is the report about the economy? Public debt was left at zero. How does that help the economy of the premises of the administration?
LAV: It leaves us with a good credit rating. Asking for loans is not bad, as long as it is done responsibly, for goods and services for the people. If you have a good rating, you have better opportunities even for lower rates in the future. It is important to have healthy finances. We were able to do it. Thanks to people's taxes, the debt that came from 2009 was paid.
We generate confidence in investors. Six years ago there were zero jobs in the industrial park, it's the truth. Today there are more than seven thousand. They are opportunities for people.
But for this we must build a free society through education. We have kindergarten with the highest enrollment in the state, it is the most beautiful, modern, and safe. A primary, secondary, and high school for two thousand students each. We finished the first stage of the UNAM, that will leave us more prepared and competitive for opportunities and investments.
Five hotels are being built and they will create jobs. I know there are questions, but directly or indirectly the population lives off of it. We have to see it head-on. When the pandemic came, we missed tourism. It seems to me an ingratitude. Today thousands of locals live off tourism opportunities. This allows a better quality of life. I am proud and satisfied. We must not confront ourselves with tourism, we must understand what we are, and the value of building a better San Miguel.
JA: What are the achievements in culture?
LAV: We had great recognition as the Culture Capital of America. It was a whole program of cultural groups and workshops in urban and rural areas so that everyone could develop cultural skills and wager on peace.
It was a great cultural year because we had great free concerts, such as Armando Manzanero (RIP), events in markets, neighborhoods, chapels, and churches. There were cultural activities that were not designed to attract people but to enhance and reinforce what exists.
We had Faces of Our People, a series of activities to celebrate. Suddenly in 2020 the pandemic came and it got complicated because all the festivities had to stop. I had to give a shout [cry for Independence] to the empty square, and I have to thank all San Miguel residents because we lived up to the task. As a cultured, responsible people, we responded with firmness, solidarity, generosity, effort, and sacrifice. We anticipated the measures. How can we not thank each NGO, nurse, doctor, businessman, and merchant? Then a magazine recognized us as the first city to stand up after the pandemic.
To all the residents of San Miguel, thank you from the bottom of my heart!