This restaurant opened three years ago and started out by serving family friends only. Then, when word of mouth made it popular, it opened to the general public. Rosa Torres is behind the great recipe for chicken wings, and Javi is her right hand man, who manages the place and provides the right atmosphere and service. 
The specialty here is pizzas, and you will find a great variety to satisfy every taste. Their pizza margherita, for instance, is topped with manchego cheese, mozzarella, basil, and sliced tomatoes. Another variety—pizza de carne—also has manchego and mozzarella, but in addition it has ham, sausage, and chorizo. There is also the pizza pastor, which is one of the most popular. Once again, it is topped with manchego and mozzarella, but it also has meat, onion, and pineapple. Another of the favorites is the pizza mediterranea with shrimp, clams, and mussels. 
Their most unique type is "la pizzalita," which is a delicacy I have never come across previously. It's a pepperoni pizza which bears a different flavored chicken wing on each slice and is accompanied by sliced potatoes. There is also the fruit pizza, which has berries, Philadelphia cheese, white and dark chocolate, all on pastry dough.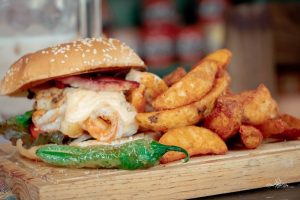 This is not all. They also have shrimp burgers made with grilled shrimp, sweet peppers, roasted onion, lettuce, tomatoes accompanied by French fries. The pastas include a Bolognese, Alfredo, Mediterranean, four cheese, carbonara, al burro, lasagna, and others. Their signature chicken wings come in many flavors: BBQ—both mild and spicy—chipotle, mango with habanero peppers, tabasco; parmesan garlic, lemon pepper, a chipotle strawberry, and other flavors. For dessert, try their fried bananas which come with a scoop of ice cream and berries. 
Mon-Thu 12-10pm
Fri-Sun 9am-10pm
Pirul, Peña de la Cruz
San Miguel de Allende, Gto.
415 105 0882