The Hotel Association is objecting to two hotel closings by the municipal authorities. It asserts that this represents government harassment and that the claims of housing tourists are false, since these guests had come to San Miguel de Allende to work.
According to a municipal presidency document, filed on June 3, Hotel Monteverde was closed for continuing to operate since March 20, when cessation of activities was ordered in the city. Two guests who were staying at the hotel were evicted According to Jorge Olalde, president of the Association of Hotels and Lodging Establishments, it has been proven that the residents were not tourists; they were in San Miguel to do work in construction and technology.
On June 5, Civil Protection closed Hotel La Ermita. "The hotel never closed; it continued to operate behind closed doors," said Director of Civil Protection, Josafat Enriquez. He also claims that at the time of the inspection, two guests had arrived from Aguascalientes and that the hotel did not have the required Civil Protection plan in place.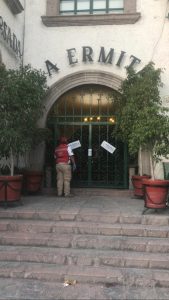 Olalde noted that Hotel Monteverde is part of the Hotel Association, but not La Ermita. He emphasized that he is speaking for the Association. First, he said, there is no concord in the guidelines between the three levels of government. The federal government states that hotels and restaurants can operate at 25 percent of capacity; the state says 30 percent. Furthermore, in the state of Guanajuato, hotels and restaurants operate in 45 municipalities, but in San Miguel only they cannot operate. Olalde emphasized that since the construction, aeronautics, and automotive industries have been reestablished, people from outside San Miguel are coming to work on projects here. Because of budget constraints, these people must stay within the city, not in Querétaro, Dolores, or Celaya.
"It is unfair that the authorities are not empathetic to tourism. No one has supported us. Everyone is surviving as he can. They close, sanction [in San Miguel], but in the other 45 municipalities they are working," said Olalde. He did note that the association and the government are working on reopening plans—which will be in Phase 1—but that at no point has the matter of closures been addressed. He also stressed that the association is working hand in hand with the State Health Department, and that because of this, several hotels offer rooms for health workers who must be in San Miguel.
Laura Torres, president of the Tourism Council, indicated that the council is focused on working on the guidelines for a proper reopening. "We cannot allow people from outside to come and get sick here. We must be prudent in serving the people who come. We ask service providers to take the necessary measures and open accordingly."