September may be the favorite month (after December) not only for Mexicans, but for foreign visitors as well. The reason? In September hundreds of tricolor flags adorn facades, public buildings, businesses, and civil institutions. Thousands of accessories are sold on the streets to celebrate Mexico's national month. This year is special because it is the 200th anniversary of the end of the War of Independence. The administration is already preparing the program.
There are also the festivities in honor of San Miguel's patron saint, San Miguel Archangel. This year that celebration will take place on October 1, 2, and 3. It will include the "offering of light" at dawn when there will be dancers, offerings, and mojigangas. In short, it is a month full of celebration. As if that were not enough, the 24th annual GIFF (Guanajuato International Film Festival) will take place from September 21 to 23 in San Miguel in the hopes that by then the health contingency will be less restrictive. Curiously, in spite of its name, the festival does not take place in Guanajuato city, but here, in Irapuato, and in León.
A tribute in León and San Miguel
Atencion spoke with Sara Hoch, executive director of the GIFF festival. She explained that in 2020, due to the Covid contingency, the entire program was rescheduled for the end of that year. Although the number of positive cases increased, the festival did take place in Guanajuato city, Silao, and Irapuato in open air spaces. The festival, which was to last more than a month, could not obtain accreditation from the Department of Health to take place in San Miguel.
This year, once again the GIFF festival will be in September. According to Hoch, representatives of the most important film festivals in the country met and decided to hold the festival at the end of the year "because more people will be vaccinated. This is usually the first film festival of the year, but we changed the date so as not to conflict with the Cry of Independence or the patron saint festivities. GIFF will take place in Leon from 18-20; in San Miguel from 21-23, and in Irapuato from 24-26," said the Hoch.
Unlike in previous years, for the first time GIFF will be inaugurated in the largest city in the state, León. An agreement was reached not only with representatives of FORUM Guanajuato, but also with government officials in León. Hoch commented, "We are going to open in León. We had several meetings with the municipality and FORUM. The festival this year is dedicated to Ernesto Herrera, the co-founder of GIFF. They asked us to consider kicking off the event in León because they want to honor Herrera in his native city. His entire career will be celebrated—not only his input into the festival, but also his work as a theater director, installer, set designer, graphic designer, and photographer. Much of his life was spent in León. We agreed to the request. The municipality is supporting us through Forum, with all its infrastructure, to hold a free event. The festival will open with a tribute. Ernesto loved San Miguel and we are also planning a celebration of his life, activities, and art that he generated in the city that inspired him and where he felt at home. It did not take long for him to feel at home here, like what many of us who arrived and have stayed here have experienced."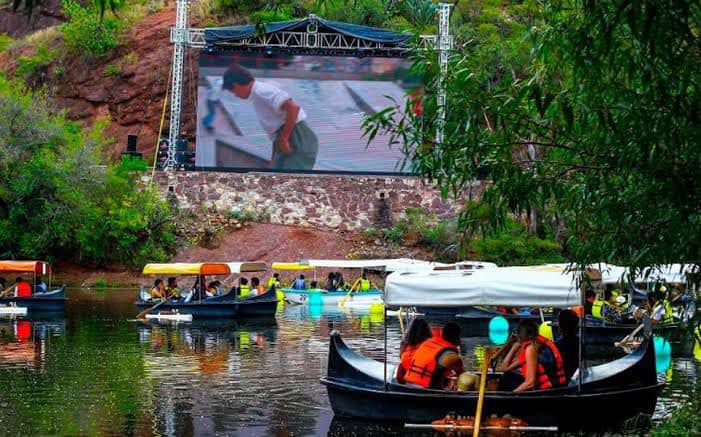 Santa Fe International Film Festival
After the GIFF press conference in León clarified that the festival would not take place in Guanajuato, Guanjuato Mayor Alejandro Navarro clarified that the capital will have its own festival next year. He said, "GIFF is an excellent product, it was born here in Guanajuato. We asked the organizers to change the dates and that did not happen, so we decided not to financially support the festival, although we had wanted to," he said. 
In an interview with Periódico Correo, Director of Economic and Tourism Development in Daniel Gutiérrez Meave said that they could not give GIFF the million pesos that it had requested, but that they would like to support operational aspects. Navarro commented, "We received a request for one million pesos in economic support so that it could be carried out in the city.  This is a resource we do not have. Obviously, in the pursuit of continuing our support, a response was issued telling them that we could not offer economic support, but we are willing to help with municipal procedures and permits, which ultimately involves public services, civil protection, and public security."
Regarding Navarro's statements, GIFF Director Sara Hoch indicated that his words "are irresponsible statements, lies that do not add up. The way he talks about me makes me appear a misogynist. Life is too short. Because of Covid and the economic situation, we have not been able to undertake many events. It is difficult to organize an event under these conditions. We continue on because of our passion for cinema, our conviction of the worth of the culture of the cinema."
Hoch added, "We want to reactivate the economy. It is important to bring back tourism in a controlled way. We need to draw attention to the State of Guanajuato, San Miguel, León, and the capital, Guanajuato city. Mayor Alejandro Navarro has not met with us for three years. There is no dialogue problem because there is no dialogue. We sent officials last year in the hopes of setting up meetings to organize something in Guanajuato, but that did not happen. He [Navarro] answered our last letter one day before the press conference."
On the specific issue of whether she knew the reason for the rejection from the capital, she said, "I do not know. In the second year that there was no support and no communication, I said he [NAVARRO] was myopic, and the war started. I think he is a complex man, insecure, he is a man who wants to organize and support his own events. He brings an agenda as mayor—his own events—and that's fine. We did not start the attack. Everyone is happy regarding León because now the festival is closer by. We are going to go where we can hold the event, where there is proactivity and participation. In San Miguel everyone joins in. If there is not a million pesos for an event, and no spillover or promotion, how can you hold a festival? They are expensive. Morelia has 42 million pesos, Guadalajara 38, in the best of times we had 12, now we have seven. Go make a festival with that."
Change of government in SMA
When we asked Sara Hoch, if the festival in San Miguel could be held later, considering the change in government, she declared, "Yes, but when Mauricio Trejo takes the oath of office and is installed, we will start with applications and plans. We will see his interest in supporting us. It has been rare to have conflicts with the mayor in San Miguel. Different parties have been in power and have had [different] visions. We have come to agreements. The current administration has been very supportive. San Miguel wants its festival."
Streaming GIFF
The official GIFF program will be published in August. Regarding San Miguel, there are three (A, B, and C) space plans, depending on the health traffic light. These plans include open and closed spaces. Meanwhile, throughout the festival, movies will be available on the streaminggiff platform that will be enabled shortly. Users can reserve the titles they want to see when registering. The system can host up to a thousand people watching a screening at the same time.
University "Rally"
Upon their selection, groups of film students, accompanied by accomplished directors and actors, will arrive in San Miguel to film shorts. This year, the Rally will take place in San Miguel at the end, and the films will be screened in the Jardin Principal the same day they are filmed.
For more information go to giff.mx