Property damage in just one of the two recent fires in San Miguel de Allende amounted to some two million pesos. Neither of the businesses—Láminas de San Miguel (April 4) and Autohotel Luna (April 9)—had a Civil Protection Plan. In both cases civilians fought the fires with water, which caused the fire to spread. Some 500 hectares of grassland were consumed. Arson is possible; in one of the cases, it seems the work of the Firefighters and Civil Protection was being undermined, because for one week they worked intermittently to extinguish the fires along the road to Querétaro.  
It's best to call 911
In an interview with Atencion, City Director of Civil Protection Josafat Enríquez said that although civilians are tempted to fight grassland fires, it is not a good idea. More than 20 firefighters have certifications from the National Forestry Commission, and are ready to act when required. They are so well trained that in 2017 they fought a treetop canopy fire for three days in the Dos Arroyos community, on the border of San Miguel and Juventino Rosas. On average, up to 350 grassland fires are recorded per year, some very sizable, others smaller. Clearly, personal security comes first, then material security. Enríquez urges citizens to call 911, and if they want to fight a fire, to do so as a volunteer, following the directions and learning from the experience of the professionals.
Director Enríquez recalled that in May 2008 a fire was reported in the Los Torres community. There, the residents united to fight it off. Two 17-year-old cousins entered a ravine, and suddenly the direction of the wind changed. The fire turned into a whirlwind that engulfed them and left them with burns all over their bodies. "They were transferred to a hospital, but they died," he lamented.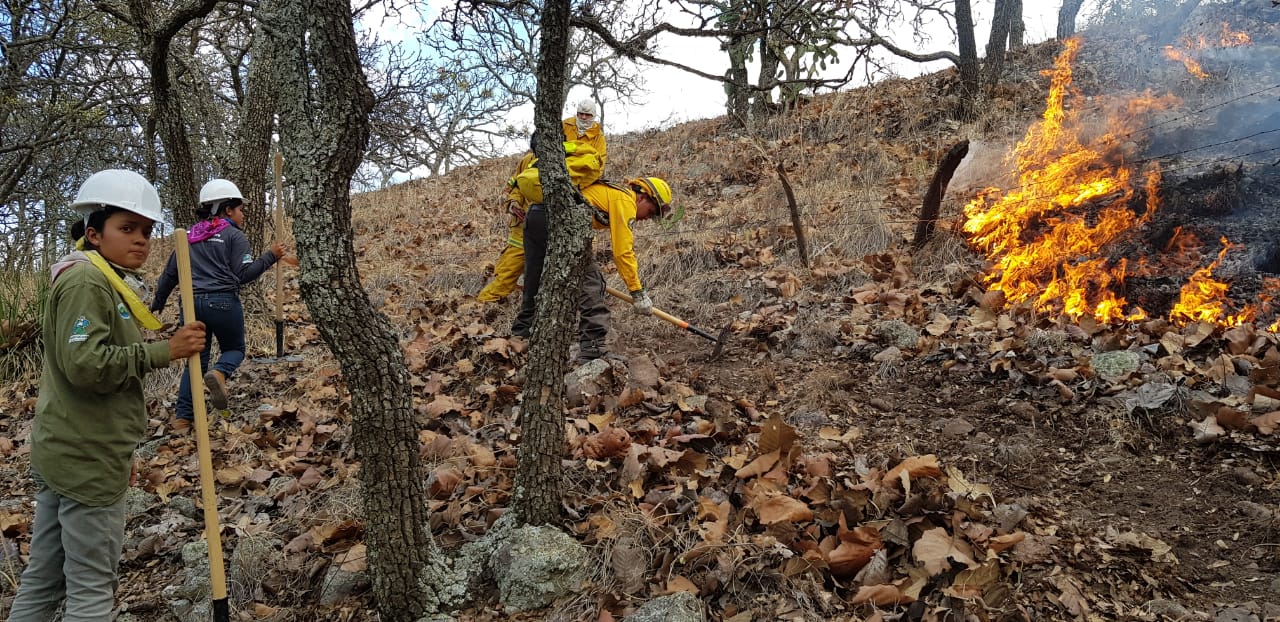 Fires in buildings
On April 2, a group of about 25 people from Los Rodríguez were praying after a funeral. In the kitchen adjacent to the prayer room where food was being prepared a gas hose became disconnected, and caused an explosion and the gas tank to fall. In this case, Civil Protection and the firefighters controlled the fire and gas leak, and there were no victims.
On April 4, videos and images of thick smoke coming from Laminas de San Miguel on Calzada de la Estación filled social networks. The damage incurred was estimated at about two million pesos, including damage to adjacent buildings. Emergency forces treated six people for intoxication.
Enríquez said that the business did not have a Civil Protection Plan. The business owner indicated that he was welding when a spark hit some fuel. People's first reaction was to throw water on the conflagration, but in this case the water caused the fuel to combust and the fire to spread. A dry chemical extinguisher should have been used. The business is closed and will not reopen until damages to third parties have been paid.
On April 9, 17 people (three of whom were workers) were evicted from the Luna car park on the road to Celaya. The van of one of the clients (parked on the ground floor) caught fire. Neither the client nor the staff were aware of the fire until the flames and smoke were widespread. They also threw water on the fire and caused the flames to spread. Although there was structural damage to some rooms of the business, there were no casualties. Enríquez indicated that the place will remain closed until the structural damage is repaired to standards. This place did not have a Civil Protection plan either, and a few months ago it had been cited for dumping its sewage out in the open. 
During this same week, there was a fire on the second floor of a house under construction where the wooden infrastructure was ready for the next step. "Something" caused the fire, which consumed all the wood. Fortunately, the house was empty. Later, the same day, in the Loma Blanca neighborhood, a grassland fire caused the wooden house to catch fire. A call to 911 stated that two minors were trapped inside the house, but in fact it was a dog that managed to escape unharmed. Director Enríquez remarked that businesses can hire consultants to ascertain their contingency plans, and people in private homes can do this too. There are experts in the Volunteer Fire Department, the Red Cross, and Civil Protection.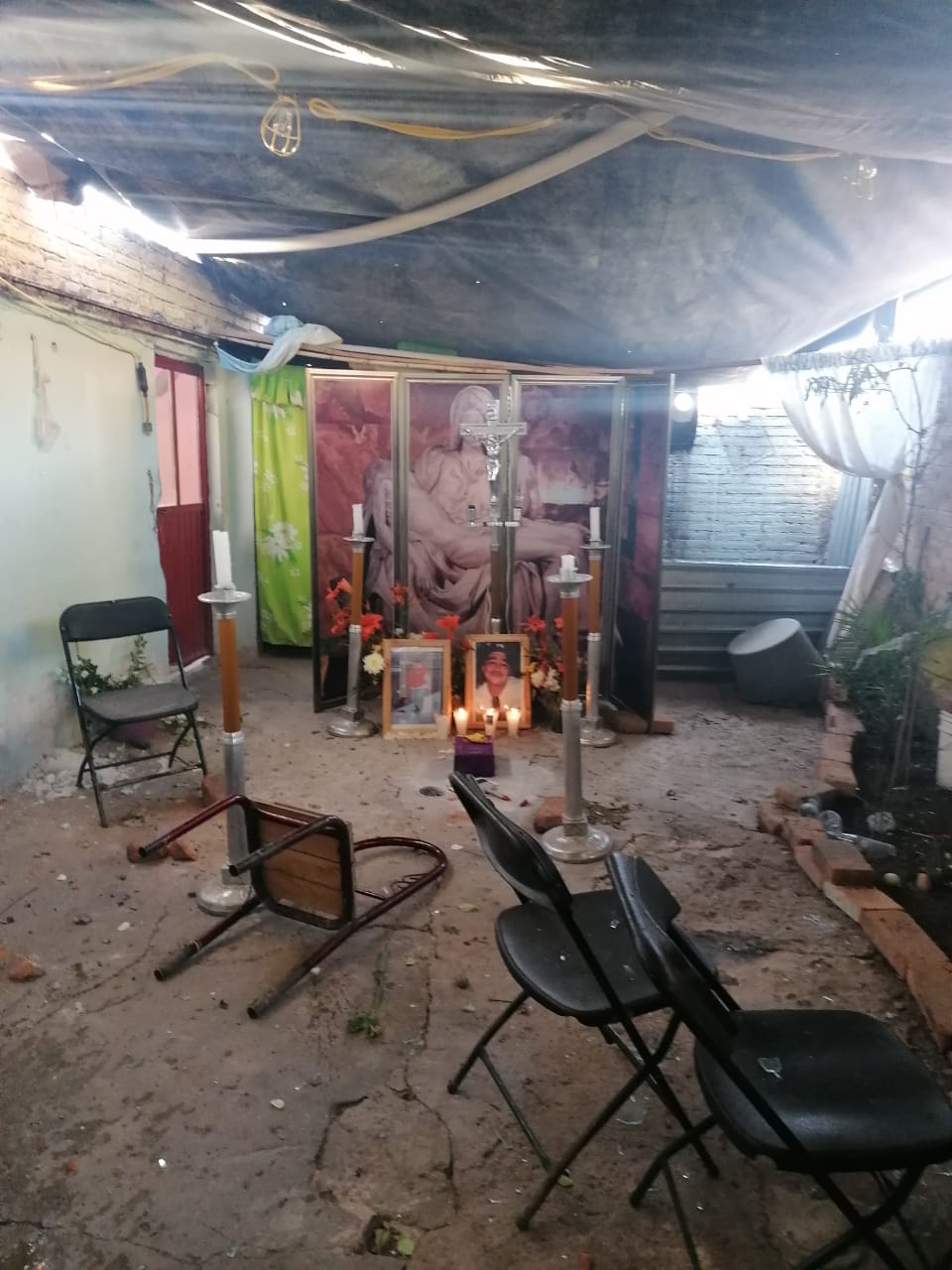 Grasslands
Enríquez explained that land owners have a legal obligation to keep their land tidy to avoid these accidents, moreso if they are receiving federal funding. He also noted that the grassland fires in San Miguel cannot be compared to those in a forest in the United States, where houses are made of wood and the trees are tall. "Here the houses are made of stone, they don't burn," he said. 
Enríquez urges the public to be aware and avoid discarding material, such as glass or plastic, which create a magnifying glass effect, into vacant lots. He explained that if there is a grassland fire in a vacant lot it requires firefighters. "If there are no cardboard houses, wooden roofs, or tanks nearby, there is no risk. However, wastelands are often surrounded by houses. A tank gas needs to heat to 600 degrees Celsius to suffer damage." He added that his office, together with the Office of Environment, are working to train people from rural communities in firefighting. With the proper technique they can initially attend to a fire until the fire-fighting team arrives. To facilitate this, he is providing personal safety equipment and tools. The emergency number, available 24 hours a day, is 911.
The cost of a firefighter alert
A regular firefighting call costs the Volunteer Fire Department around 2,500 pesos. In a year, it responds to up to 300 grassland fires, as well as structural ones. Car accidents have decreased "probably due to the pandemic," but other incidents have increased in homes, including fires. According to Ernesto Martinez, vice president of the Fire Department, donations have shrunk, and that is why the Fire Department subsists on state, municipal, and some private subsidies. Martínez recalled that the worst fire San Miguel ever experienced was in 1950, when the market burned down—the one where the equestrian statue of Ignacio Allende now stands—in Plaza Cívica.
The Volunteer Firefighter Corps (with 46 active firefighters) was founded in 1983. A few years later another fire shocked San Miguel. Shop stalls in the current Plaza Cívica, mostly made of cardboard sheets, caught fire. The conflagration lasted six hours, and firefighters came from other municipalities to offer support. Since then, the Volunteer Firefighter Corps has been on duty. In recent years it has received sizable donations from the San Miguel Community Foundation, and because of this it now has four water pumps, an ambulance, and a rescue vehicle. These donations have also purchased personal protective equipment (jackets, helmets, gloves, pants, boots, etc.). Martínez indicated that the amount on which the Fire Department operates is not much, about 2 million pesos a year, and with the pandemic the funding has shrunk by half. Donations to the Fire Department are gladly accepted at Bancomer account 0170800031 Board of the Fire Department of San Miguel de Allende, A.C.