On the road to Otomí shortly beyond the railroad tracks is a unique sanctuary called Santtüary. It is an animal refuge and a large expanse where you can enjoy nature. Among other endeavors, the place is home to over 50 burros as well as horses, Vietnamese pigs, and sheep. This is an idea of a 16th century farm. 
After crossing the railroad tracks, take the road to the left and follow the signs to SANTTÜARY. The entrance is through San Miguel Viejo. Ignore the sign that says "Do not pass, private property," (No pasar, propiedad privada) and follow the cobblestone road flanked by magueyes that brings you to the entrance. 
Inside Santtüary are several man-made lakes shaded by pirul trees and poplars that are home to migrant ducks and geese. Three grassland areas provide grazing for the resident animals, all of which are donated rescues. One plan is to start burro milk production for local consumption.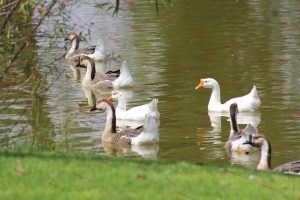 Santtüary is owned by Coordinadora Ciudadana Ambiental A.C. (Citizens Environmental Council), an organization of nature and art lovers. When you visit the place, a music⎯and Mexican culture⎯loving guide will take you to see the horses, which are said to have participated in equestrian shows in and outside of Mexico. Other animals on the tour are Vietnamese pigs of all sizes, and George, a large pig who greets visitor and enjoys being petted.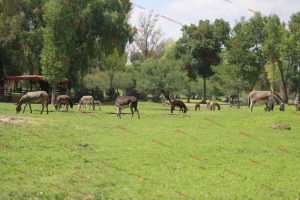 As the tour continues, you will arrive at the largest of the lakes. Along its shores is La Banda (the band), a series of medium-sized, metal sculptures depicting musicians. Scattered on one side of the lake there are also over 90 marble sculptures by Yoshi that are worth seeing and contemplating. 
An area called An Offering to the Forest has a 20-year accumulation of pruning remnants. These piles of wood are an offering to nature itself. A white-tailed eagle is a regular visitor to the area, according to one of the members, and now there is a sculpture at the top of one of the wood piles honoring the bird.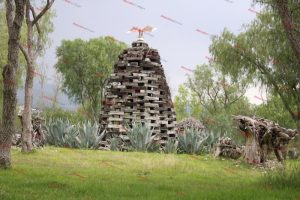 There is also a room with a permanent art exhibit with works—paintings and sculptures—of Yoshi Yoshikawa, John Shueler, Keith Keller, and others. The space features an area for crafts made by local partners.
The trails within the 45-hectare nature preserve are still in the planning stage. Eventually visitors will be able to walk through the refuge on their own. A donation will go toward the association's operating expenses.
Now, even if it is just a work in progress, visitors can show up and will be attended by those in charge. The time a visitor spends will depend on how he/she connects with the environment. Santtüary is scheduled to properly open within 90 days.