By Tim Hazell
Movements throughout the art world shifted from Paris to New York during the years immediately following World War II. Editors and publishers of major periodicals were focusing on new trends. "The Tiger's Eye" represented a collaboration between the husband and wife team of writer Ruth and painter John Stephan. Taking its name from William Blake's famous poem, this journal became a widely respected medium for visual arts, poetry, and prose from 1947 to 1949. 
State-approved writers had become outmoded. Octavio Paz and his contemporaries brought trans-rational imagery to a young, demanding, and literate public. "The Tiger's Eye" and other pivotal magazines incorporated leaders of this risk-embracing "modernista" wave into their expressionist circle. In his pungent "Summit and Gravity," the poet's verse blooms amongst dynamic landscapes:
You are dressed in red
You are the seal of the scorched year,
The carnal firebrand, the star fruit.
In you like sun, the hour rests
Above an abyss of clarities.
Modernism in Latin America was characterized by new relationships with materials and techniques. "The Tiger's Eye" represented a fresh multi-media wave, creating unity while celebrating diversity. While doing so, this lens of post-war transformation and redefinition profiled artists who were cross-referencing disciplines, tapping into the energy from each other's shared experiments, spreading their innovations to a global forum.
Mexican "modernismo" was a reaction against bourgeois conformity, chauvinism, and materialism in Latino society during the early twentieth century. Critiques of women's art, literature, poetry, and scientific innovations barely concealed condescending attitudes of machismo. Women in pursuit of higher education and unconventional careers were frequently evaluated from the standpoint of their relationships with either Guadalupe or Malintzin, the multi-lingual consort of Hernán Cortez. 
This classic chicken adobo recipe is derived from the original Spanish adobar, denoting marinade, sauce, or seasoning. Meat and vegetable adobos are very popular in Filipino cooking, spreading to Mexico and Central America. Delicious served over rice!
Ingredients:
3 tbsp. oil
1-3 lb. chicken cut into pieces or equivalent drumsticks and thighs
6 cloves garlic, thinly sliced
1 large onion, quartered and sliced or finely chopped
1/2 cup white, apple cider, or balsamic vinegar
1/2 cup light soy sauce
1/2 cup water
2 tsp. brown sugar
2 tsp. black pepper
2 – 4 bay leaves
2 tbsp. pickling spice, wrapped in cheesecloth
Garnish: Lime wedges and chopped spring onions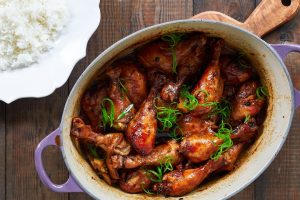 Directions:
Heat oil in a large pot over medium heat until shimmering. Cook garlic in the oil for no more than 30 seconds. Add onion and continue to cook until soft. Add chicken pieces and fry, turning until they lose their pink color. Pour in vinegar, soy sauce, and water. Season with sugar and black pepper. Add the bay leaves and pickling spice, making sure that the spice ball is submerged. Bring to a boil and reduce heat to simmer, partially covered, so that a little steam escapes. Simmer for an hour or until chicken is very tender. Serve topped with chopped spring onions and lime wedges on the side.