By Tim Hazell
Sardines (pilchards) are a variety of diminutive, nutrient-rich, oily fish widely consumed by larger fish species, seabirds, marine mammals, and human enthusiasts. They are esteemed fresh or canned, prepared in many tempting ways.
Tunisians eat fresh-caught sardines grilled, then served with lemon and green olive oil. A Greek salad may consist of greens with roasted peppers, cucumber, olives, assorted vegetables—and a tin of sardines. The term "sardine" was first used in English during the early fifteenth century and may come from the Mediterranean island of Sardinia. Commercially, sardines and pilchards are interchangeable terms, with over 20 species being harvested worldwide.
Sardines are high in vitamins and major minerals such as phosphorus, calcium, potassium, plus trace minerals iron and selenium. They are renowned natural sources of marine omega-3 fatty acids, which may reduce the occurrence of cardiovascular disease. Because they are low in the food chain, sardines contain fewer contaminants, such as mercury, compared to other fish.
Canning is a nineteenth century innovation. Traditionally, along France's Breton coast, fishermen fried sardines and preserved them in clay jars called "oules." Nicolas Appert and friend Joseph Colin applied their new discoveries to the existing Breton conservation methods, creating what we now know as the canned sardine. Their enterprise was producing about thirty thousand cans a year by 1836 and spawned other small factories. The entire region was turning out over fifty million tins by 1880.
In the larders of European gourmets, the finest canned varieties are allowed to mature for a minimum of 4 to up to 30 years and are as highly regarded as pots of foie gras or jars of caviar.
Adamant "sardine-agers" treat their catches like vintage wines, adapting their cellars for sardine stocks and turning the cans over once a month. Aged sardines are often served simply—by themselves, with a little mustard on the side, a green salad, or on toast topped with butter or extra virgin olive oil.
Here is a delectable recipe that is easy to prepare and nutrient dense!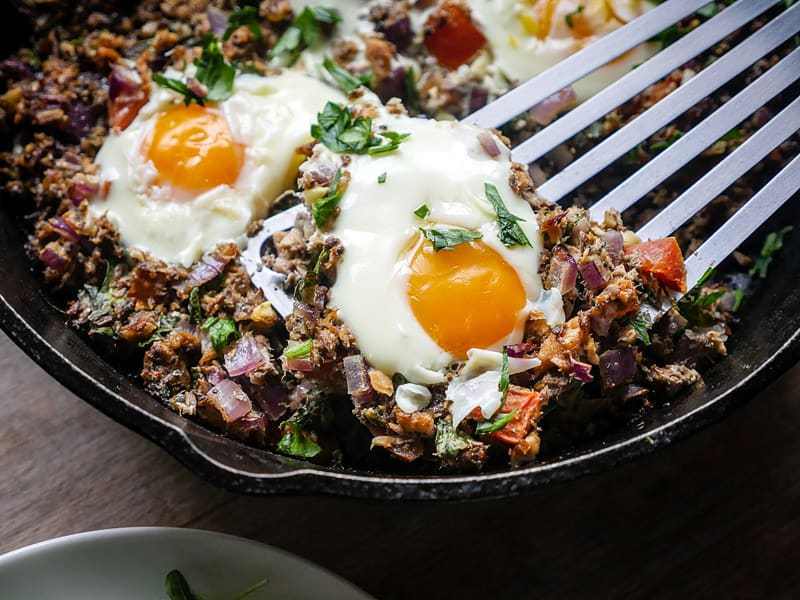 Fisherman's Eggs
Ingredients:
2 (4-ounce) cans sardines in olive oil
3/4 cup red onion, diced
1 ripe tomato, seeded and diced
1/4 cup fresh parsley, chopped
3 cloves garlic, minced
2 tbsp. pitted Kalamata (black) olives, chopped
1/2 tsp. black pepper
4 eggs
For serving:
Arugula, spinach or other greens
Hot sauce
Directions:
Place a small cast iron skillet or baking dish in a cold oven. Preheat to 350°F. Drain the sardines and add them to a mixing bowl. Mash with a fork. Add the onion, parsley, tomato, olives, garlic, and black pepper. Combine well. Remove the skillet from the oven and add the sardine mixture, spreading it out in an even layer. Return the skillet to the oven and bake for 10 minutes. Take the skillet out and carefully crack the eggs on top. Continue to bake until the egg whites have set, about 8–10 minutes. Let rest for 5 minutes before serving with greens and hot sauce.
You may also be interested in previous recipes: